If you have been following our previous food trails, you would notice that we are discovering online food deliveries. This is when the tense Pak Cik Wong food delivery challenge happened. We keep on bragging about it till Papa became curious about Restoran Pak Cik Wong. Furthermore, he wanted to know their authenticity and flavours, so we will be going there for a second food review! No more food riders, thanks to someone!
Fuji vs Sony
Hold on, before we get going to the next part, here is another exhilarating story. *drumrolls! We just got a new camera and are all over the moon at the moment. For this reason, our Sony fanboy is grinning from ear to ear, since receiving the camera. So I guess there will be no more borrowing Papa's camera huh? Don't sulk, dear Fuji. Along with the food review, Papa also wants to have a food photography battle, killing two birds with one stone. Looks like we will be having a showdown between Fuji and Sony! Get set, ready … go!
Beat The Clock! Beat The Crowd
To begin today's food review, we scrambled to leave the office early in the afternoon, heading straight to Pak Cik Wong. It is because we want to avoid any long queues during lunchtime peak hours. Papa is our driver for this review, in the Vellfire today. Oh what luxury! It only took around 15 minutes from M Roof Hotel and Residences to arrive there. So tell me, what is the common concern whenever you're going to the Greentown Business Center? PARKING! Thankfully, destiny is on our side and it didn't take a long time to get a parking. However, the parking lot is quite narrow for our Vellfire to fit in. Again and again, papa kept adjusting the car repeatedly, later with the help of the two heroes – he successfully parks the car.
The Battle Has Just Begun
After a short walk, we made a pit stop at the front of Pak Cik Wong. Papa and Sony fanboy at the drop of a hat, started taking out their camera at the same time. Oh dear, the battle of fuji vs sony is starting. *click click. They are fighting like cats and dogs each claiming whose picture is the best. I'm just standing there in my safe and sound zone, while the battle continues for quite some time…..Just so you know, all the pictures will be given credit to who's taking the shot.
The weather is really, dang hot and being inside the restaurant is pleasing. I felt like walking on air as soon as my being went into the restaurant. To be frank, they are taking too much time taking pictures outside. I'm all sweaty and ketibas (Ketibas = Ketiak basah) just looking at them. Shortly, a pretty crew greets us and the boys can't take their eyes off her (well, boys will be boys). As always, upon entering any business premises everyone needs to follow the SOP (scan MySejahtera apps and checking our body temperature). The restaurant is not full yet, there is still lots of empty tables (they open at 12.00 pm, so be early). Like a bat out of hell, I choose the back seat with the gigantic Pak Cik Wong's logo (I bet the picture would be nicer with this background, right?).
Trending Restoran Pak Cik Wong, Makanan Cina Muslim
Before we get into the next part, here's a brief about Restoran Pak Cik Wong. As Malaysia offers diverse styles of unique eats, M Makan Kaki's will not stop from indulging in other ethnic foods. As you may already know, we are here to taste Chinese styled dishes. Perhaps they have an authentic taste that can magically transport us to China! For this reason, papa is joining us as he is our self proclaimed "expert" in Chinese Cuisine.
First and foremost, Restoran Pak Cik Wong is located at Greentown Business Center, nestled in between Spade's Burger and 99 Speedmart. As a matter of fact, it is located just right opposite of Ipoh's famous Nasi Vanggey. What's more, look out for the signboard featuring an uncle in his chef attire. This mascot is none other than the renowned Restoran Pak Cik Wong.
Stepping in, there is a semi-open kitchen with a transparent window where you can see the chef cooking (or just their heads?). There is an extensive kitchen/bar counter featuring backless reclaimed wood stools. The tables and chairs are also set out orderly. To summarize, the ambiance is pretty simple, featuring unadorned white with turquoise painted walls inside and on the exterior of the premise.
We Became a Pack Of Wolves At Pak Cik Wong
Once we are comfortably seated, their darling crew hands us the menu and order sheet. Seeing the boys continue their camera battle, so much so that they didn't even bother to look at the menu. I think I'm in charge of ordering foods huh? (am I the only one who's hungry?). Deciding on what to order is no bed of roses! After a lot of head-scratching, I refer to Papa just to ensure that we want to order is "authentic" Chinese cuisine. Papa said Wat Dan Hor is a must to try as it is one of the popular noodle dishes among Chinese. Not just that, he also adds Fried Lou Shi Fun. Pak Cik Wong offers black pepper or sambal Lou Shi Fun and as for today, we choose sambal (typical Malaysian, who can say no to sambal?). Wait, is this Lou Shi Fun a Chinese Dish?
Not satisfied, we also add Fish Fillet Salted Egg as well. This is what our dainty eater suggests since Chicken and Squid are too common. We are the foodies who prefer to try something different! Furthermore, Kung Po Sotong attracts me by looking at it's picture on the menu. We also added Chicken Ginger & Spring Onion as well as Broccoli with Mushroom to complete our lunch. Oh, to quench our thirst we ordered Italian Coffee, Passion Fruit Tea, Orange and Honeydew juice respectively.
As Fast As Lightning
Woah! In a blink of our eyes, the dishes arrive to the table. Therefore, I would like to compliment Pak Cik Wong for their "quick as flash" service in food preparation. As our order is complete, the magic device (camera) is back on their hands and the battle (stage 2) continues. While they are in the middle of interminable battle, Papa keeps on babbling about a good photo technique. Feeling confident, Sony fanboy claims his technique is already adequate enough, and bla bla…..it continues….. Well, I am just sitting here, safe and sound with a growling stomach (when la they all going to stop? I'm hungry already!).
As luck would have it, Creamy Butter Sotong arrived at our table. We were confused as we did not order this dish but the crew said it is on the house. Hold your horses, are they trying to bodek or bribe us? Back to our disclaimer, we pay for our food and we do not appreciate being sponsored by any restaurant. Seems like someone from within our M faMily has let the cat out of the bag. Let just skip this part, it really pisses Papa off! (there he goes, nagging … and nagging)
The Savoriness Of Pak Cik Wong Dishes
Hang in there my precious reader, don't worry Papa is not mad anymore! Without further due, let us wolf these foods down! To start off, let's get going with Fish Fillet Salted Egg (RM8.80). Golden crispy fried and crunchy fish fillet coated with a savoury salted egg yolk batter is the best to describe it in words. I gobbled it down and if I could have licked my plate, I would have.
Chicken Ginger & Spring Onion (RM 8.80) is unpleasantly lacking the tang of ginger. It left a stronger taste of Oyster sauce on my palate. Not really to my liking.
Next, Broccoli with Mushrooms (RM8.80) has a nice smooth glossy sheen. But it disappoints Papa as he was expecting Shitake mushroom, instead of White Enoki Mushrooms. The rough cut and big chunks of broccoli are a shocker to me. Maybe because I am just used to eating it in smaller florets ….. but is surely flavorsome.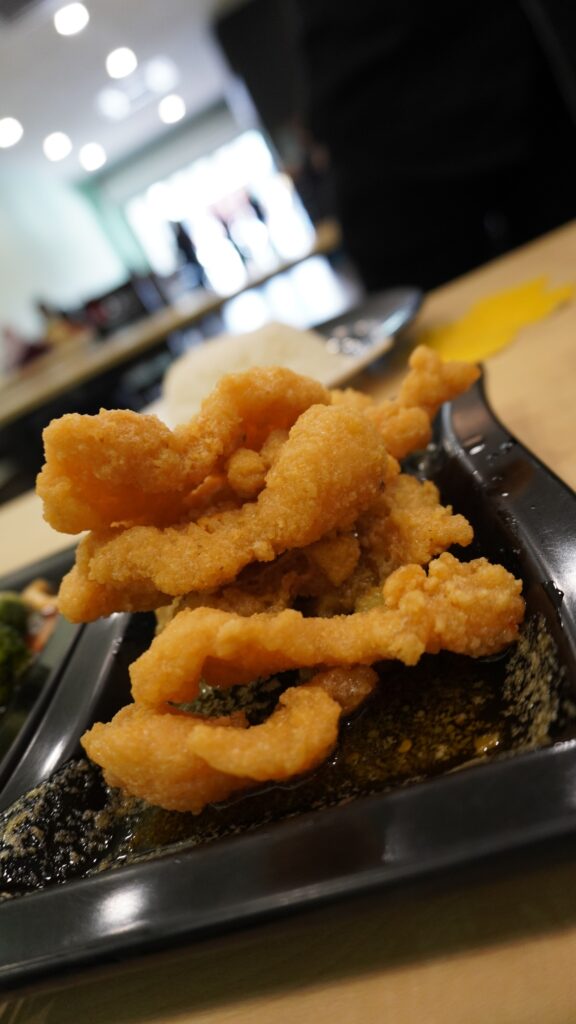 Squidgy Squiddy
Moving on, Kung Po Sotong (RM8.80) looks very much like a Chinese authentic dish. For non-spicy lovers out there, you might give this a skip as it has an addictive tingling heat from dried chilies. Furthermore, Papa begins his grumbles at the use of additional red bird eyes chili to make it spicier.
In contrast, let's talk about Creamy Butter Sotong (RM8.80) which, oh boy, I am glad we got for free hahaha ….. When the waiter puts it down in front of me, I was frightened by the numerous small red chilies (cili padi). I put up a brave front and took my first bite. OMG! Heavenly. Not as spicy as I thought it can be by the amount of chili on it. I'm guessing the butter milk helped to neutralize the heat? It's a yum yum creamy butter which we were told is the bestseller here. Despite that, bonus points for their tender squid.
Overeating – Bloated Tummies
As time goes by, looking at my plate, I'm still halfway in finishing my rice. Nevertheless, we almost forget about Wat Dan Hor (RM8.80) and Lou Shi Fun (RM8.80) which is left untouched. Not wanting to waste any food, Papa passes a scoop of Wat Dan Hor to each of our plates. Also known as Char Hor Fun or Kong Foo Chow is a Cantonese noodle dish cooked with smooth egg gravy with soy sauce infused flat rice noodles.
However, despite using the same concept for this dish, it has a slightly different presentation as it was served with broccoli. Usually, it will be served with fish cake and vegetables like Chinese cabbage and carrot. The hallmark of this dish is of course its extra silky gravy that uber slurp-a-licious! However, papa complains the dishes would be more palatable if it is accompanied by pickled green chilis or cili potong. (yes, they didn't serve that!)
Lou Shi Fun Sambal
Ingesting Wat Dan Hor leaves us with a replete stomach. But Lou Shi Fun is still lying uneaten in it's cozy plate. Yes, we have a habit of overordering, we can't squander foods… wasting is not our policy. Come rain or shine, we have to finish this. So, we needed to find a small space in our tummies for Lou Shi Fun.
Did you know Lou Shi Fun is known as silver needle or rat noodles among Malaysians? It is simply because they look like a needle and a rat's tail. The noodles are stir-fried with a generous amount of peeled shrimp, batonnet cut green bell pepper, chicken, and onion. It may look simple but when everything comes together with sambal it tastes amazing. Papa seems to be liking the taste of it. Followed by our fussy eater, saying, "sesuai dengan tekak Melayu".
For beverages, their Italian Coffee (RM4.80) is from an Arissto Coffee machine (unremarkable coffee taste?). Passion Fruit Tea (RM4.80) has an astringent tea taste enhanced with some sweetness of fruit flavor. As for the Honey Dew (RM6.80) and Orange Juice (RM6.80), it is a freshly-squeezed fruit juice with a sweet and tangy savor that makes it easy to drink. It tastes fresh and exactly like a real honeydew and orange.
Pak Cik Wong Crowded During Lunch Time
As lunchtime rolls around at 1.00 pm, the restaurant is packed with people. Thank heavens we reached there earlier so we don't need to wait. While other customers are busy occupying empty seats and making their orders, we almost finished our lunch. Even though the restaurant is filling up with customers, they still manage to handle it smoothly as foods still arrives swiftly. They, concurrently, also receive a lot of online food orders. You can hear the continuous notification bell that reverberates throughout the restaurant.
We Are Satisfied!
Before we bid goodbye, we took a 5 minute break from our food coma. We are so lucky as once in a blue moon Papa joins us in for our food review. Even luckier – Papa is paying! Nevertheless, Restoran Pak Cik Wong only accepts cash and e-wallet payments. I bet you must be wondering about the price? Much of their menu is around RM8.80, which we feel is a reasonable. All in all, we spent RM76.00 with a free plate of Creamy Butter Sotong. Rating….they surely will hentam me for this, But I'm still motivated to give them 8/10 for their rendition of daily authentic Chinese foods and excellent service. (Papa is already complaining about my rating ….)
In conclusion ….
To conclude, Pak Cik Wong's meal is delicious and satisfying as all of us are incredibly satiate with their delish Chinese Muslim cuisine (until bloated okay?). Restoran Pak Cik Wong not only serves a close replica of Chinese food with Halal ingredients but in a simple and humble environment. Therefore, anyone around the vicinity would gladly dine without any hassle or fuss.
Address
20, Persiaran Greentown 10, Greentown Business Centre, 30450 Ipoh, Perak
Contact No
+6052106222
Operation Hour
12:00 pm – 10:00 pm (Monday to Sunday)
NOTE : We do not eat for free, nor were we paid for this review. We ordered and paid for everything that we consume. This review is a general summary from feedback by all members of the M Boutique Family who partook in the Food Review. If you need to know more about them, don't forget to pay a visit to their Facebook page.
*Don't forget to subscribe to our newsletter to get updated on the latest promotions and deals from the M Boutique Family of Hotels!