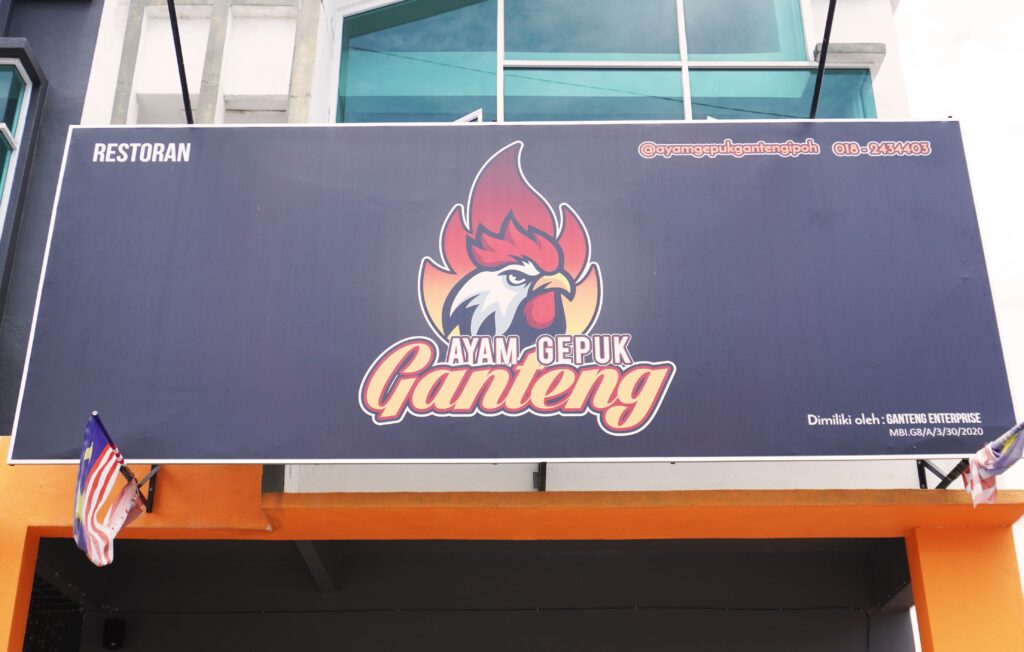 We are adventurous when it comes to food, so we cannot miss out on challenging our palate for spicy delights at Ayam Gepuk Ganteng. Therefore, the rebellious quartet of M Makan Kaki's went on an excursion to Meru. Directly opposite Doremi Steamboat, lies this popular Indonesian-Malay fusion restaurant. Seeing their black signboard featuring a fiery chicken is like mocking me; "Am I chicken?". Come on! We're pumped! We weren't brought up here to be scared by chickens, so let's make a beeline inside.
Fondness For Indonesian Food
The restaurant is in a contant state of hustle and bustle. Lo and behold! It was filling up quickly during lunch (make sure you arrive there early). Online and in-house orders kept coming in time after time without a break! I wonder what all the fuss was, as apparently their dishes is selling like hot cakes! Ayam Gepuk Ganteng is one of the pioneer cafe in Ipoh, thus, it is not surprising that their presence is well received by Ipohnites.
Ayam Penyet/Geprek/Gepuk? All Look Just The Same
As the name suggests, its specialty is the well-loved Indonesian dish, Ayam Gepuk. It seems that many locals show a strong penchant for this Indonesian dish. In my opinion, Malaysians enjoy these dishes as they have quite a few similarities to Malaysian cuisine. Do you think of it the same way? Typical white rice, some fried chicken and sambal…..a must have in our dishes!
Since it is such a big deal now, it is necessary to understand the slight differences between Ayam Penyet, Ayam Geprek, and Ayam Gepuk. To avoid any confusion, Ayam Penyet is a walloped fried chicken served with rice, fiery sambal, with a dusting of kremes (tiny bits of spiced fried crumbs). On the other hand, Ayam Geprek is a deep fried boneless chicken mixed with flour and crushed together with sambal on a mortar. Lastly, Ayam Gepuk is a combination of Ayam Penyet and Ayam Geprek. The smashed chicken (like Ayam Penyet) is layed with mortar pounded chili on top (same way as Ayam Geprek). I truly hope that this clears things up on the differences.
The Epic Start of Ayam Gepuk Ganteng
Subsequently, it was a big pleasure to have an outstanding business talk with Mr. Azril, founder of Ayam Gepuk Ganteng. Many people do not tend to appreciate enough the challenges people have to overcome before reaching their goals. The downhearted story starts as they contemplate their fate regarding a rumor circulated about Perak's MAPS (Movie Animation Park Studio) imminent closure. As they were working as entertainer, they felt at a loss when the rumor came to fruition. For this reason, they decided to start up a streetwear and accessories business, but unfortunately, it amounted to nothing.
While the going gets tough, the tough gets going. Not idling though unemployed they decided to venture into food business. Back in the day when Ayam Gepuk was nowhere to found in Ipoh, they brought the idea of opening this business back to Ipoh. They started with a small stall situated in front of Meru's McDonald. Alas with the outbreak of COVID-19 they moved their premises to the front portion of a rented shop lot for take away and delivery. As business continued to make good progress, they rented the entire premise. That is how they started and it has come a long way in the last 2 years. It's truly fascinating how they overcame challenges and strike gold!
Behind Every Success, There Is Hard Work
What astonished me was that they did not have any background in F&B. According to Mr. Azril, their improvised recipe is from his grandmother (Javanese descent). He revealed that the preparation of Ayam Gepuk was the most difficult, requiring blood, sweat, and tears! They were not joking as it is very tedious and methodical process. Mr. Azril explain, not only do they need to pluck out the chili one by one, but also have to make sure the chicken is cut to the proper size. He also added, that is all of their "titik peluh,…..Ganteng's survival in producing the greatest Ayam Gepuk".
In addition to this, I would love to emphasize about their service. It should be noted that their service is the best! Indeed, the crews are lovely as they will come to the table frequently asking how was the food and see whether we manage to survive the spiciness amid our snots and tears. Not just that, they also take their customer's pictures and videos for their Instagram page (I'm going to stalk their page after this to see if my face in it). A big thumbs up for their sweetest service!
They Might Burn Off Your Sanity
Are you ready for the searing pain review? Firstly, we decided to go for the rice set meals ━ Set Ayam Gepuk Ganteng and Set Keli Ganteng. Along with the chicken/ikan keli and rice, served with a piece of fried Tempeh (fermented soybean cake), fresh cabbage, cucumber, and their signature sambal ━ consist of their wicked homebrew hand-grinded chilies surrounding the white rice.
In the heat of the moment, the brave members make a bold act to savor this sensational dish. "Pedas Mak oi!" comes out from his mouth while chugging down water and wipes away his sweat. It seriously scared me silly! In spite of it, I'm making a brave move to give it a try…..literally to bring you this review. UGH! For someone who is weak like me, it truly singes my taste buds even on the first bite. It feels like I'm swallowing a fireball! Time to gorge on more water…..just take a look at these beverages, they are totally our life savers!
Nevertheless, if you can get pass the scorching spiciness, the taste is flavorful with a pleasant piquant sambal. Little known what ingredients they used to marinate the chicken, nonetheless it is fragrant with fresh spices and is well-seasoned. As opposed to our finicky eater, he finds it quite dry from being deep-fried.
Indomie Ayam Gepuk
Secondly, if you don't fancy rice, you may try their Set Indomie Ayam Gepuk. Albeit, here is a quick question, is there anything quite as addictive and satisfying as a plate of Indomie Goreng? For those who are not familiar, Indomie is an instant noodle brand produced by the Indonesian company Indofood. The one that we are having on the menu is their most popular product, Indomie Mi Goreng.
You can savor a delectable chicken seasoning with a small chicken chunks. Ayam gepuk and sambal is also served along in this set. The chicken is surprisingly well paired with the Indomie noodles. As someone whose spicy food tolerance is good, I am amazed by how well our chili head enjoys the sambal. I bet his pain receptors work well with capsaicin (the molecule responsible for the hot in spicy foods). How can he find it pleasurable?
A Bowl of Bakso
Last but not least, we also had Set Bakso Ganteng in the list. For quick reference, bakso is an Indonesian popular food consisting of meatball served with noodles and broth. For this set, there is a selection of noodles ━ mee, bihun (vermicelli), or maggi (instant noodle) to choose. I never tried maggi bakso before, so I give it a shot. It appears that the sambal kicap (signature sambal + kicap manis, I guess?) comes along with bakso. In essence, the soup and meatball are all meat based. Their homemade meatball has the right combination between the tenderness of meat and fat. The broth is tasty and not too overpowering, totally worth a try. Be warned, the sambal kicap is sure to set you on fire.
"Spicy Food = Good Mood"
Generally speaking, the food and service was outstanding, despite the pain! The perfect blend of flavor and spiciness is it's unique selling point. This time we did not burning a hole in our pocket as we only spent a total of RM46.00. Talking about rating, we are giving them 8/10! All in all, Ayam Gepuk Ganteng is a stellar place to satisfy your spicy flammable food cravings. We are signing off here with numbed tongues and possibly a bad day at the toilet later (just kidding).
Address
70, Jln Meru Bestari A8, Bandar Meru Raya, 31200 Ipoh, Perak
Contact No
018-243 4403
Operation Hour
Monday to Sunday
11:00 am – 10:00 pm
NOTE : We do not eat for free, nor were we paid for this review. We ordered and paid for everything that we consume. This review is a general summary from feedback by all members of the M Boutique Family who partook in the Food Review. If you need to know more about them, don't forget to pay a visit to their Instagram page.
*Don't forget to subscribe to our newsletter to get updated on the latest promotions and deals from the M Boutique Family of Hotels!