From limestone hills and cave temples, Ipoh is actually more renowned for the city's scintillating food scene to us locals as opposed to sightseeing (for now that is). From delicious hawker fare steeped in years of tradition to quirky Malaysian-styled fusion cuisine, food in Ipoh is truly a mesmerizing affair. Ironically, many of us will eventually ask themselves; what to eat in Ipoh? Some would recommend the State pride; Ipoh Chicken "Hor Fun" with Beansprouts and some, Nasi Ganja! This time around, let's discover the magic of the famous 'Nasi Ganja'@ Kedai Kopi Yong Suan with the M Makan Kaki(s)!
What?! Nasi Ganja?!
What is Nasi Ganja all about? For the unordained; Ganja is the Malay word for Cannabis! Goodness, will I be addicted to it? Is it legal?? These are some of the conversations overheard when one mentions this. However, there is no illegal substance in the recipe (phew). The term was coined as the proprietor of Nasi Kandar Ayam Merah's built up a slew of die-hard fans, claiming his cooking is so tasty that it is as addictive as 'ganja' or cannabis. Unfortunately (or fortunately to some) there are those who claim that after a full Nasi Ganja meal, you will feel sleepy akin to a trans like state. Truth is, who doesn't after a satisfying meal?
How About Nasi Kandar? Does It Sound Familiar?
You may have noticed that Nasi Ganja, is a very popular northern Malaysian dish, originally invented in Penang (Penangites call it Nasi Kandar). It comprises steamed rice and a variety of different curries and side dishes, all on the same plate. Depending on your order, it could go up to 5-6 different curries on the same plate of rice. Weird? Only to the inundated as this is what makes the entire experience awesome! Operating in a Chinese-owned coffee shop named Kedai Kopi Yong Suan, it is inarguably one of the most popular nasi kandar located at the corner of Jalan Yang Kalsom amidst bustling cars.
Since 1957! WOW!
The coffee shop exhibits the rustic charm of olden days with it's flaking painted walls and floor tiles. According to the manager of Nasi Kandar Ayam Merah, Mr. Mohamed Nihmatullah Syed Mustaffa, they have been in the business for 61 years since 1957 when it was first operated by his grandfather, the late Mr. Kassim Mohamad of which a plate of Nasi Ganja then would only cost RM1.20 per plate.
Don't Like Long Queue? Avoid This Peak Hour…
Jalan Yang Kalsom is no stranger to long queues and Nasi Kandar Ayam Merah @ Kedai Kopi Yong Suan's delectable curries boiling away wafts past the passerby, and the mouths begin to salivate, inexplicably. It is said that people start flocking to the coffee shop as early as 11 am which helps to create a long queue of people between the peak lunch hour from 12.00 pm-2.00 pm. This was our mistake. We left M Roof at 11.30 am and got there by 12.00pm; only to experience the dreadful long queue for takeaway orders have already begun.
The Secret Behind Nasi Ganja
Thankfully, dine in was in contrast to the takeaway orders; and we swiftly ducked into the coffee shop and spied a table of 5 who were just about to leave. We ordered 6 plates of the signature plate of 'nasi ganja' each consisting of a plate of rice complemented by the specially prepared chicken (it takes 8 hours to prepare the chicken), ladies fingers (okra), cucumbers dolloped with their curry combinations and … drum roll please …. the secret ingredient… Ganja Sambal! It is rumored that this Ganja Sambal contains coconut & mint but we could not get the owner to divulge his recipe. Add on half of a salted duck egg at the side and the cost will come round RM5.50 per plate …. add a plate of Kambing Kurma and the price escalated to RM11.00 per plate.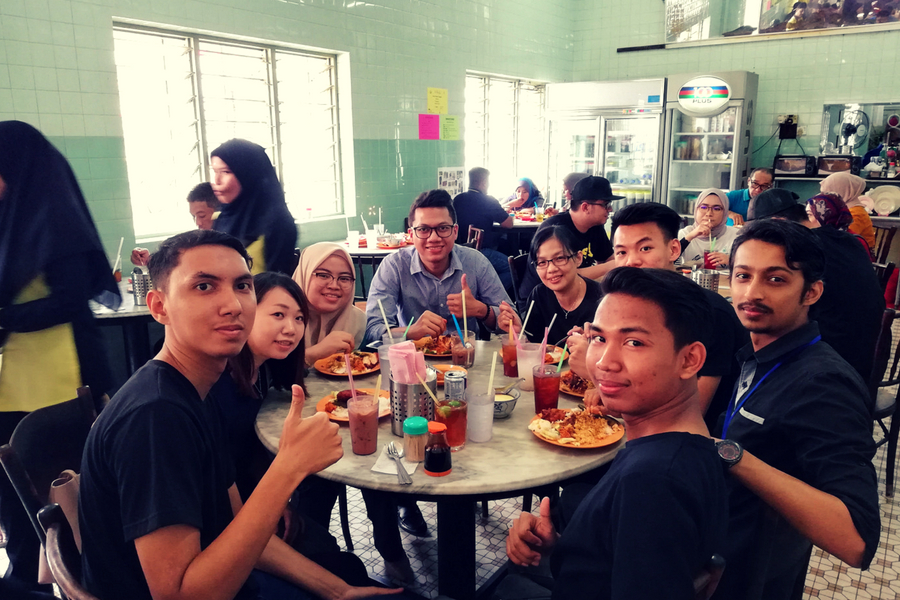 How about the taste? Well, the chicken was a tad dry to our liking, but the other accompaniments and dishes was pretty delicious; which made this a pleasant experience. When the curries coat the chicken it makes the taste quite complex and creamy, coupled with hot steaming rice accentuates this complexity …. other then the punch it delivers to the empty stomach, this ommphh does tingle our brains… ah, we have been enlightened on why they deserved to be called Nasi Ganja.
Bite The Bullet, Mate!
Was it worth the wait? Well, for a taste of tradition we would say so; but we would recommend you to ask for dollop after dollop of curry. Drench the rice! Price-wise, it is definitely reasonable as a plate of Nasi Kandar with Chicken in Malaysia can escalate above what Yong Suan is charging, so hey, can't really complain. For 8 plates of 'Nasi Ganja' inclusive of drinks and egg custard (a passing whim), our bill came up to RM65.00, on average around RM8.00 per person. Not too shabby eh? Have a go and let us know if you agree with us!
Address
Nasi Ganja @ Kedai Kopi Yong Suan
4, Jalan Yang Kalsom, Taman Jubilee, 30300 Ipoh, Perak.
Phone No
05-254 4314
Operation Hour
Opens daily from 9.30 am – 5.00 pm
NOTE : We do not eat for free, nor were we paid for this review. We ordered and paid for everything that we consume. This review is a general summary from feedback by all members of the M Boutique Family who partook in the Food Review. If you need to know more about them, don't forget to pay a visit to their Facebook page.
*Don't forget to subscribe to our newsletter to get updated on the latest promotions and deals from the M Boutique Family of Hotels!